Chaya Silver, Education Director
Chaya Silver, Education Director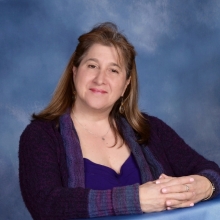 Chaya Silver joined Agudas Achim Congregation as Education and Youth Director in 2014. She grew up in Oak Ridge, Tennessee, where both of her parents were actively involved with the synagogue. Despite the small size of the community, Chaya was part of a very vigorous, engaging congregation (more than 70 years old and still going strong). Her youth group years were spent actively involved in Young Judea. Chaya attended Brandeis University and earned a Bachelor's Degree in sociology, followed by a MFA in acting and directing from The University of Tennessee. She then studied for several years at the University of Wisconsin Madison focusing on creative drama and education.
Chaya has more than 25 years of experience as a Jewish professional, having worked in Tulsa, Oklahoma, as the JCC Program Director; and in Knoxville, Tennessee, as Education Director at Heska Amuna Synagogue.
After moving to the Washington, D.C., area, Chaya worked as Education Director at Adat Shalom in Bethesda; at Olney Kehilah as Education Director; and at other agencies as a freelance Jewish educator and programmer, including the DCJCC and Temple Rodef Shalom.
Chaya currently lives just across the river from Agudas Achim. She has three grown children, Emma, Max and Lilly, as well as a little white dog named Raphie (named for the angel Raphael, not the tennis player or the Ninja turtle).
In her free time she enjoys hiking, gardening, knitting, making soup, listening to all types of live music, and attending theater.
Chaya's door is always open and she extends a sincere invitation for you to stop by the office and introduce yourself or just say, "Shalom!" at a kiddush or oneg.
Here's to a wonderful year of friendship and learning!
Be in touch with Chaya Silver.
Fri, September 22 2023
7 Tishrei 5784
Today's Calendar
Minyan

: 7:30am
Talmud Study

: 9:00am
Kabbalat Shabbat Service

: 6:00pm
Candle Lighting

: 6:48pm
---
Upcoming Programs & Events
Noam
Shabbat, Sep 23 10:00am
Noam
Shabbat, Sep 30 10:00am
---
This week's Torah portion is

Parshat Ha'Azinu
Candle Lighting
Havdalah
Motzei Shabbat, Sep 23, 7:46pm
Shabbat Shuva
View Calendar
Fri, September 22 2023 7 Tishrei 5784