Chag Sukkot Sameah!
Friday, September 29 - Friday, October 6

Sukkot is one of the Shalosh Regalim (Three Pilgrimage Festivals) whose celebration is commanded by Torah. It is known by various names in the Torah, ranging from Chag HaAsif (Harvest Festival) to Chag HaSukkot (Festival of Booths). While Sukkot has traditionally marked the end of harvest time and therefore the agricultural year in Eretz Israel, it is now more known for the construction of a temporary dwelling known as a sukkah, which serves as a symbolic reminder of God's provisions for the Israelites after they were freed from slavery in Egypt.
Le'Shev Ba'Sukkah Shabbat Dinner
Friday, September 29 | 6 p.m.
Registration is now closed
The registration for the Sisterhood and Men's Club Le'Shev Ba'Sukkah Dinner was an overwhelming success! We look forward to celebrating the start of Sukkot with everyone.
We also need volunteers to help with kitchen prep, set up and serving. Please contact Sisterhood kitchen coordinator

Susan Auerhan

if you are able to help.
Bring Your Own Sukkot Picnic
Sunday, October 1 | After morning services

Continue the Sukkot celebration by bringing your picnic to enjoy after Sukkot Day 2 services. Bring a little extra to share with friends and build community while doing the mitzvah of eating in the sukkah.
Ne'Arim Sukkah Hop & Scavenger Hunt
Sunday, October 1 | 12:15 p.m.
AAC Teens—can you solve puzzles quickly and beat other sukkah hop teams to reach the final destination? Grab your friends and get ready to test your creativity, problem-solving skills, teamwork, and sense of humor. There will be lunch.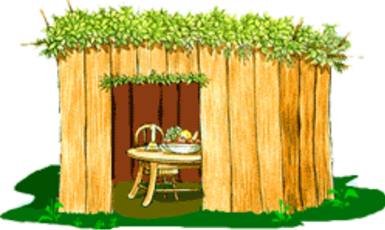 Young Professionals Evening in the Sukkah
Monday, October 2 | 6 p.m.
Young Professionals of AAC are invited to join shlicha Yarden Shiri and unwind after work over board games in the Agudas Achim Sukkah. RSVP by emailing
Yarden
.
Sukkot Picnic Dinner with Young Families
Bring your own dairy or parve picnic dinner and join other Young Families in the Agudas Achim Sukkah for a Sukkot picnic dinner. We'll do a craft, share a story, and then have dinner while enjoying each other's company in the newly renovated sukkah.
We'll be providing dessert, so we hope that you'll join us!
All are welcome to attend. Shanah Tovah!
Iraqi Jewish Culture with Yarden
Join Yarden in the brand new sukkah to learn about this ancient community of Middle Eastern Jews from a personal perspective and taste some authentic Iraqi food.
Not our sukkah, but with your help it could be made just as beautiful
K-6 Sukkah Decoration & Potluck Dinner
Families with children in grades K-6 are invited to fulfill the mitzvah of
hiddur mitzvah
(beautifying a mitzvah) by decorating our brand new sukkah. Bring a dairy and/or parve dish capable of feeding 8-10 people and enjoy a potluck dinner with all of your friends in the sukkah after the decorations are up. Click the link above to register.
Simhat Torah
Saturday, October 7 - Sunday, October 8
Celebrate Torah with your friends at Agudas Achim as we mark the end of the holiday season by finishing Deuteronomy and starting anew with Bereisheet. This year's Hatan Torah and Kallat Bereshit are Jake Yeston and Gayle Weiss.
(Please note that the schedule is subject to change)
Friday, September 29 - Erev Sukkot
6 p.m. | Sukkot Ma'ariv in the Flax Family Chapel and

Zoom
Saturday, September 30 - Sukkot Day 1
9:30 a.m. | Yom Tov Morning Service in the Cohen Sanctuary and


Livestream

6 p.m. | Ma'ariv in the Flax Family Chapel and

Zoom
Sunday, October 1 - Sukkot Day 2
9:30 a.m. | Yom Tov Morning Service in the Cohen Sanctuary and


Livestream

7:30 p.m. | Ma'ariv & Havdalah in the Flax Family Chapel and


Zoom
Monday, October 2 - Chol HaMoed Sukkot
7:30 a.m. | Morning Minyan Chol HaMoed in the Flax Family Chapel
7:30 p.m. | Ma'ariv (Zoom only)
Tuesday, October 3 - Chol HaMoed Sukkot
7:30 a.m. | Morning Minyan Chol HaMoed in the Flax Family Chapel
7:30 p.m. | Ma'ariv (Zoom only)
Wednesday, October 4 - Chol HaMoed Sukkot
7:30 a.m. | Morning Minyan Chol HaMoed in the Flax Family Chapel
7:30 p.m. | Ma'ariv (Zoom only)
Thursday, October 5 - Chol HaMoed Sukkot
7:30 a.m. | Morning Minyan Chol HaMoed in the Flax Family Chapel
7:30 p.m. | Ma'ariv (Zoom only)
Friday, October 6 - Hoshana Rabah
7:30 a.m. | Morning Minyan Chol HaMoed in the Flax Family Chapel
6 p.m. | Shmini Atzeret Ma'ariv
Saturday, October 7 - Shmini Atzeret
9:30 a.m. | Yom Tov Morning Service in the Cohen Sanctuary and


Livestream

6 p.m. | Simhat Torah Ma'ariv
Sunday, October 8 - Simhat Torah
9:30 a.m. | Yom Tov Morning Service in the Flax Family Chapel
and

Zoom

7:30 p.m. | Ma'ariv & Havdalah
Fri, December 1 2023 18 Kislev 5784