Update, January 14, 2021
Dear Congregants,
During these tumultuous times we turn to our community, our beautiful relationships, to sustain us. We have greatly missed seeing you in person over the past 10 months – to pray, to learn, to celebrate and to support one another in each other's presence.
Although we have been apart physically, we still see every day the embodiment of the covenantal relationships that uplift and nurture our community.
We want to remind you of the last line of our vision statement: We care about each other, we care about social justice, we care about Israel, and we care about YOU.
This is a time for all of us to demonstrate how we care about each other. With COVID-19 vaccines becoming available in our area, we encourage you to speak with your healthcare provider and take the necessary steps to ensure your own health and the health of our community.
Below you may find links to health departments, vaccination information and vaccination registration for the City of Alexandria, Arlington County, Fairfax County, and Washington, D.C.
As Jews, as a caring community, it is our responsibility to do our best in preventing the spread of this terrible illness and saving lives.
We look forward to the time when we can be together again, soon.
L'Shalom,
Rabbi Rein and Hazzan Dienstfrey
Message from ALIVE!
ALIVE! needs a lot of support now. Read the message (03/23/2020) from ALIVE! President Eric Winakur, and ALIVE! Executive Director Jennifer Ayers.
Thu, February 25 2021
13 Adar 5781
Statewide Information on COVID-19
The Commonwealth of Virginia is launching a Statewide Vaccine Pre-Registration System to provide a unified and comprehensive process for people in Virginia to pre-register for the COVID-19 vaccine. As a result, the Virginia Department of Health has directed all local health districts to close their pre-registration forms and surveys at 5 p.m. on Friday, February 12, and replace them at 8 a.m. on Tuesday, February 16 with a link to the new statewide system. Existing waiting lists will be imported to the new system.
All individuals who have previously filled out a survey or form or signed up for a waitlist to be vaccinated through their local health district will be automatically imported into the new statewide system. Individuals will maintain their current status in the queue, and will be able to search that they are in the new system starting Tuesday morning.
Pre-register for COVID vaccine in Virginia
Vaccine Information
From Rep. Don Beyer's newsletter, January 13, 2021:
Northern Virginia has entered Phase 1B of COVID-19 vaccine distribution. The best source of information on vaccine availability will be your local public health department.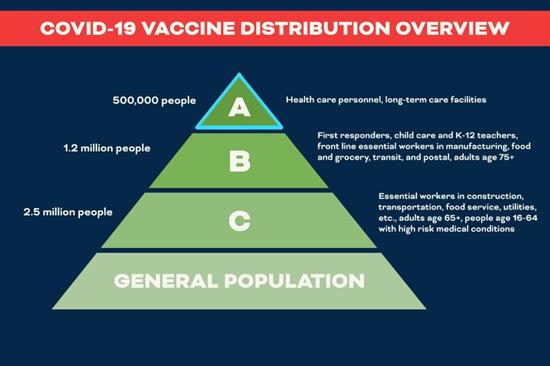 More information is available via the Virginia Department of health on Phase 1b or Phase 1c, and you can find out which phase you belong in and register to be notified here.
Alexandria City eligible residents should fill out this brief form to pre-register for vaccination. If you have trouble with the form, you can call the Alexandria COVID-19 Hotline at 703-746-4988, weekdays from 9 a.m. to 6 p.m. Those eligible for Phase 1c can also fill out the form, but they will not be able to make a vaccination appointment until Alexandria enters the next phase.
Arlington eligible residents should click here to pre-register for vaccination. Those in Phase 1c can also fill out the form to be notified to make a vaccination appointment when Arlington moves into Phase 1c. Those 75 years of age and over may schedule an appointment to get vaccinated by going to Virginia Hospital Center's website here.
Fairfax County and Falls Church eligible residents can register online here. Those 75 years of age and over may make an appointment by calling the Health Department's vaccine hotline at 703-324-7404 (Monday-Friday, 9 a.m. to 7 p.m., Saturday and Sunday, 9:30 a.m. to 5 p.m.). For more information, click here.
Remember: Dr. Fauci suggests we need 80 percent of the U.S. population to be vaccinated to end the pandemic. Until we reach that threshold, vaccinated or not, we will have to maintain masking, physical distancing, and hand-washing protocols. We all need to do our part.
We also do not yet know if the vaccines prevent transmission. Scientists continue to study this question, but for now even if you are vaccinated, it may be possible to infect others. Additionally, the first two approved vaccines are administered in two separate doses, which do not reach the highest efficacy at preventing infections until 7 days after receiving the second dose for the Pfizer vaccine and 14 days for Moderna vaccine.
Arlington County Update
posted February 12, 2021
Starting Friday, February 12, Arlington County will begin scheduling vaccine appointments for residents 65+ who have pre-registered with Public Health Division.
Notification emails will be issued in groups in approximately the order of pre-registration, in accordance with Virginia Department of Health guidance. Emails will come from arlingtonva@public.govdelivery.com.
Approximately 10,000 residents between the age of 65-74 are pre-registered. We ask for your patience as we work to schedule this large group as quickly as vaccine supply will allow. Currently, the County is receiving 2,750 doses of vaccine per week, and is continuing to vaccinate essential employee groups and other eligible residents, as directed by the Governor.
If you are unable to schedule an appointment or if all appointments are full, please check back.

VDH Announces Roll Out of Vaccine Program at CVS
This week, CVS announced a partnership with the CDC to increase vaccination supply to the public.

Arlington County Health Department has been informed that one CVS location in Arlington County will be providing COVID-19 vaccine. However, this opportunity to receive a vaccine from CVS is completely independent of the Arlington County Public Health vaccination process.

CVS is working directly with the federal government; Arlington County has not been involved and does not have oversight of the CVS vaccination effort. More info at the Virginia Department of Health.

Resources
Resources and Activities
A Cantors' Hallel
Hazzan Dienstfrey participated in a Hallel for new month of Nisan with 10 other cantors from all over the U.S. and England. Listen here. You do NOT have to be on Facebook to listen.
Mental Health Support
During the past months, while we have been social distancing, sheltering in place and in lock down, we have all been hit at various points by anger, fear, a sense of helplessness, loss of control, depression and so many other powerful emotions. This time of change and uncertainty bring up different emotions in each of us. If you need support or are looking for tips to help a friend or family member, remember that you are not alone.
Below are some mental health resources to support you when you need it:
Call: 703-J-CARING (703-522-7464)
Text crisis line: Text HOME to 741741
Financial Impact of Coronavirus
Are you or a loved one impacted financially by the coronavirus? Has your livelihood been affected? The Hebrew Free Loan Association of Greater Washington is offering interest free loans of $1,000 to eligible borrowers. To apply, please visit
www.hebrewfreeloandc.org/covid19
.
Thu, February 25 2021 13 Adar 5781